So where should you invest your marketing budget? Many assume that focusing on getting your brand name out there will build brand recognition among potential customers and sales will instantly come rushing in as a result. However, there is a far quicker way to build that important ROI - direct response marketing.
Startups should invest 90% of their marketing budget in direct response marketing and 10% into building their brand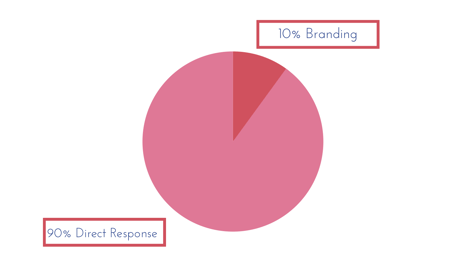 Your initial focus should be on increasing sales revenue to build your business. Brand strategies can wait. Startups should aim to invest 90% of their marketing budget into direct response marketing, to build their initial customer base, and the remaining 10% into building their brand. In short, once you ROI starts to grow, as a result of your direct response strategy, you can start to invest in your brand strategy.
Direct response marketing has the short-term goal of attracting customers through lead generation and converting it into sales. This is achieved by offering a compelling call to action that is too good to resist. It prompts the customer to act quickly, otherwise they will feel like they are missing out on a fantastic, one time offer!
[MacDonalds TVC using direct response marketing with one-time monopoly share and win offer- Even large well established brands still utilise direct response marketing strategies]
Branding
Branding is a long term advertising goal that you can focus your efforts on once you have built up your sales revenue. Don't waste your time and effort on it at the start of your marketing strategy, otherwise your business will take a long time and a lot of investment to get off the ground.
Mid Size businesses should aim for 70/30% split
Once your business has grown to mid-size, the ideal budget split will change. With your ROI, you can now afford to invest 30% of your marketing budget on branding. It is important to still spend a 70% majority on direct response marketing to drive revenue growth.
Once you hit the big time, you can afford to reverse your marketing strategy with a 40/60% split
Only once your business reached the colossal heights of the multimillion dollar scale, should you consider spending the majority of your money on branding. The ideal split when you reach this league is 40% on the direct response and 60% on branding.
Startups should not make this mistake of thinking because big companies are doing it, this is where success starts. Even the most successful companies started at the bottom, wondering how to generate the initial traction. The answer lies in direct response marketing.
As the leading advertising and marketing agency in Melbourne, we are experts at helping businesses to increase their ROI through direct response marketing. Contact us today to find out how we can help you to devise the perfect marketing strategy.